Library Management
Automatic Classification: Classification of books are done by DDC method which are updatable from time to time. Speedx provides an automatic classification assignment wizard. If turns on, it assigns classifications as the title of the item is entered. This automatic assignment of classifications are customizable at the user level.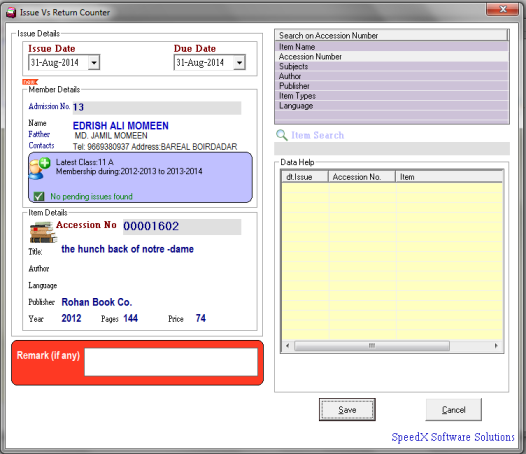 Automatic Accession Number: Accession number of the stock book can be both automatically and manually assignable. The structure of the accession number can be defined at user level in the Global Parameters
Maximum Number of Issueable items : Once the maximum number of books or other items defined in the Global Parameters the module will take care of those who by-pass the rule
Barcodes: speedx creates barcodes for each and every item added in to the stock and recognise the items in a split second with the help of barcode scanners
Members and Member Category : Members of the library can be categorised and seperately handled as per the nature of the category
Loan Period : Default period of loan (eg: 4 days) can be set at user level so that the during the process of item issue due date is automatically assigned which again can be changed as per the profile of the user login
Defaultors: speedx automatically track the defaultors of library and levy late fee as per your existing late fee rules
Physical Verification of stock : a physical verification of the library stock is provided with the help of barcode scanners which again facilitate to manage the stock with much efficiently and ease.
Advance Booking: In case of hot running books advance booking module would be great use to treat the members equally and the first-come first-served basis