Tax Management
TDS for Salaries: Speedx tax management module takes away the entire burden and troubles of tedious computation process. The entire parameters of computation can be customised at user level. Foreseing a change in computatoin logics/policies every year speedx gives a complete freedom to the end user to configure the package which suits to the changing policies.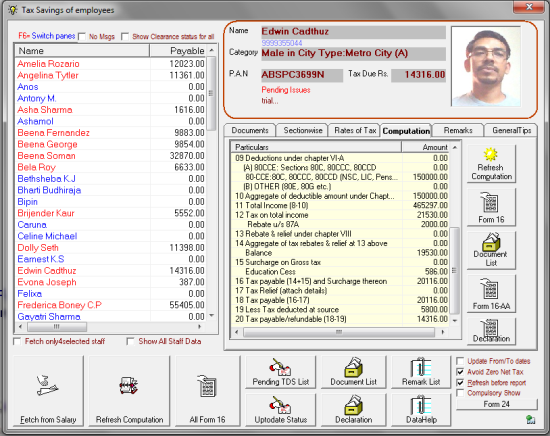 Speedx Tax Management and PayPlus Modules are inter-related and inter-linked. The necessary information would be automatically fetched-up from the PayPlus module. Speedx takes tax saving documents for each staff as input for computation. The documents can be controlled at its maximum allowed ceiling (if any) as directed to speedx in the configuration.
Speedx handles each assesse category ( Male Assessee, Female Assessee, Senior Citizen etc..) independantly. You can run computation of income-tax either for a particular employee or for the entire employees. Computation statements also can be printed out either for individual case or for the entire employees.
TDS Other than Salaries:
TDS details are managed by simply entering the payment details to the parties. As you enter the payment details of each party speedx manages to fetch the TDS calculation for the concerned party. It can also fetch data from cheque issue modules which is provided as a suplementary utility in this.
Quarterly Filings : 26Q, 24Q etc.
Annual Returns: Form 16, Form 16-A, Form 26, Form 24 etc..
Supplimentaries: Bank Account handling including Cheque issue registers